Wow! Look what I won! It only cost $1200.00!

This is from the nice dentist office that took me in when my own dentist couldn't see me until Thursday! I found out that the tooth that gave me so much trouble was cracked all the way across and was absessed! So... a root canal, a crown, an antibiotic, pain killers, and a boat-load of money later, it's on the mend. (I hope) Thanks for all your well wishes and concern.

This shirt was in the tooth-looking package.

OK, are you ready for a great giveaway? No, not this shirt! I'm keeping IT forever! Camille, at
Make it Work Mom
, is having a giveaway of children's personalized shirts. Perfect for your own child, a grandchild, a niece or nephew. Check it out!
One more thing. Shauna, from Trying to Stay Calm is doing service this Christmas. She's asking for our help in providing Christmas for others.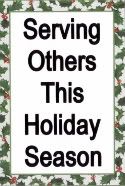 If you'd like to help her out or learn more about it, click on the button.

There are many good and generous people in blog land! Working together, we can do so much more!